Even though my arm hurts still, I have been doing some crafting.. I just get too bored at home, awake all night on my days off, to NOT do some crafting.. So I started with some things that Ive been wanting to get done..
For a long while now, a couple years at least, I have LOVED these Rococo Noir by Rosanna candlestick holders..
I got the matching large cake stand two Halloween ago and have loved the collection ever since.. But the candlestick holders cost about $50 a pair so I opted to look for a similar style and make my own. I found some in the Hobby Lobby Clearance for about $3.50 each that had a VERY similar shape and appearance. They just needed a little paint!!
here's what they looked like before.. a kind of bronzey color...
And here they are with a fresh coat of glossy black (my fave ahhh..).. I think they look really good.
Then I saw these Pottery barn mirrors and, even though I dont care much for white, I liked the style.
I figured Id give it a try with some $2.99 IKEA mirrors..
I used red mirrors and did the painting in black..
The mirrors were already red so I took some plain ivory soap and in the spots where I wanted the peeling paint I wiped the soap on the mirror. Then I painted black over all the mirror. Once it was dry I took fine grit sandpaper and sanded the areas where Id put the soap. Then I sealed it with spray sealant.
They turned out ok but Im not sure if I like them or not.
I'm linked to: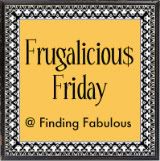 Show and Tell Friday at
My Romantic Home
and
Feature Yourself Friday at
Fingerprints on the Fridge