I think we all see many things on the pottery barn site or in the catalog that we love.. And it is no secret that I love mirrors.. I was browsing the PB catalog and I saw the bowl mirrors and I KNEW I had to make my own! They were lovely but they were also about $180 for 3 small ones.. No way jose.. I love them but I know I can make them just as good for cheap..
I started my search, looking High and Low at as many thrift stores as I could find.. Before I started looking for the bowls I could find them anywhere, but after I wanted some they were nowhere to be found. I finally ran up on some in a thrift store in Rome, GA for cheap... Then I found 3 more small pillar holders that were also nice and thought Id add those to the mix to make mine a bit different.
Here's the ones from Pottery barn:
And here's my version..
The ones on the left are made from light brown, deep, wooden bowls.
The ones on the right are made from Bill Blass Pillar Holders. They were originally gold. They have this really cute little almost-hobnail decor around the edges. I originally got them to go somewhere else but decided they looked good with the other mirrors and added a little variety.
I started off by giving them a coat of primer. Then I painted them all matte black and sealed them with spray gloss. Once everything was dry I epoxed the mirrors into the bottoms and let them set over night. I added hooks to the back with super glue so I could hang them on the wall. I think they turned out great!
I ended up paying 3.00 for the big bowl, 50 cents each for the small two, 99 cents each for the 3 pillar holders, around 50 cents each for the strong hooks on the back, the black paint and epoxy I had on hand. I got the craft mirrors on sale for half off at Hobby Lobby so the large one was about $1.88, about $2.98 for 2 packs of the non-beveled small ones, and about $1.75 for the pack of 2 small beveled. So for a total of around $17 I got 6 nice, pottery barn style mirrors for the wall just as you come into my house. I think they certainly make a good statement!!!
I'm linked to: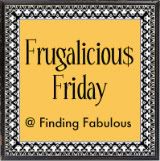 Show and Tell Friday at
My Romantic Home
Feature Yourself Friday at
Fingerprints on the Fridge
and