I am completely behind on posting my newest treasures.. I've got quite a few new things to show.. I found some really cute things at the thrift stores, ROSS, AND on 90% off clearance at Hobby Lobby.
I got a bag of shower curtain rings for my bathroom from Providence Ministries for $1.99.. They are gold, but that works with my bathroom scheme.. And they are fancy enough too! I hadnt found any that I liked and just ran into these while killing time before work one day.. I think they will work perfectly with my new burgundy shower curtain. The second image was lightened so you could see the details.
I LOVE these three bottles! I'm not quite sure what they're for but they look vintage.. I got them from the antique auction for $7.00.. The pics do not do them justice..
I found this pitcher at ROSS for $4.99 I think. It had a damask symbol on the front AND bling!
And the last two things I got at the HobbyLobby clearance.. 90% off!!!!!!! The key with it's crown top will find its perfect home over the windows in my kitchen.. It cost me $2.50.. And the damask ball topiary was a steal!!! It was broken BUT it broke clean.. So with a little super glue and some black touchup paint, it looks fabulous..You cant even tell that it was broken! And for $2.50 it will be great in my diningroom or kitchen!
I'm linked to: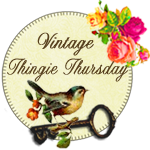 border="0"/>