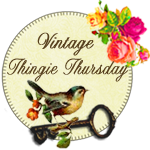 Be sure to visit
Coloradolady's Blog
for Vintage Thingies Thursday!~
Also visit Show and Tell Friday at
My Romantic Home!~
On one of my thrifting expeditions this week I ran into the most amazingly beautiful set of dishes.. They're turquoise! Before recent days Ive only had fleeting love for this color, mostly in jewelry, but since moving into my new house I have come to love it.. (The walls in the livingroom and diningroom of my house are turquoise, and it has grown on me! )
Anyhoo, back to my story.. I saw these dishes and began an immediate love affair with the cups.. Mind you, the whole set is beautiful, but the cups are what won my heart.. And they were trimmed in silver..Ahh,love.. I walked away from them... The set was $15.. But THEN I learned that everything in the store was an additional 25% off! I had to get them..
It is a set of 6, but a couple pieces here and there are stained or cracked.. BUT they are sound enough that I can get a set of 4 out of it and use the rest for something else.. I love them!!
NOTE: A few people were asking about the name of these. The plates say Taylor-Smith-Taylor- style: Versatile, made in the USA, 1-62-2 I think the pattern is called Blue Lace.